Reviews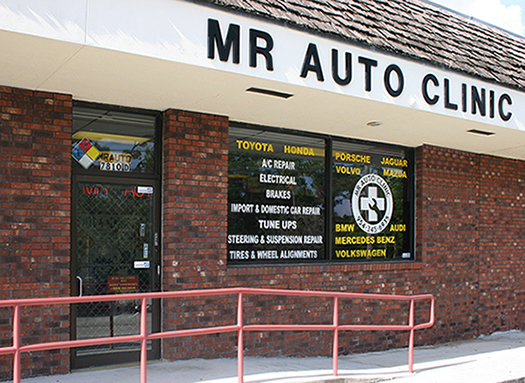 Our Certified ALLDATA Market Reviews :: Review Count: 1 :: Average Rating: 99.99% last 6 months

Tricia E.
reviewed their last visit on
1/31/2014
and their testimonial is:
"

I went here today to Mr. Auto Clinic, based on reviews and I was not disappointed! Their customer service, honesty , integrity and workmanship were of the highest caliber. I will return and plan on telling all my friends about them. The BEST auto repair place I have used in about 45 years!

"
We service and repair the following makes:

Acura Repair
Alfa Romeo Repair
AMG Repair
Aston Martin Repair
Audi Repair
Bentley Repair
Bitter Repair
BMW Repair
Buick Repair
Cadillac Repair
Chevrolet Repair
Chrysler Repair
Daewoo Repair
Dodge Repair
Ducati Repair
Ferrari Repair
Ford Repair
Geo Repair
GM Repair
GMC Repair
Honda Repair
Hummer Repair
Hyundai Repair
Infiniti Repair
Isuzu Repair
Jaguar Repair
Jeep Repair
Kia Repair
Lamborghini Repair
Land Rover Repair
Lexus Repair
Lincoln Repair
Lotus Repair
Maserati Repair
Mazda Repair
Mercedes-Benz Repair
Mercury Repair
Mini Cooper Repair
Mitsubishi Repair
Nissan Repair
Oldsmobile Repair
Opel Repair
Plymouth Repair
Pontiac Repair
Porsche Repair
Prius Repair
Range Rover Repair
Rolls Royce Repair
Rover Repair
Saab Repair
Saturn Repair
Scion Repair
Smart Repair
Subaru Repair
Suzuki Repair
Toyota Repair
Volkswagen Repair
Volvo Repair
Yamaha Repair
Case IH Repair
Kubota Repair
Bugatti Repair
McLaren Repair
Fiat Repair